Selection Required: Select product options above before making new offer.
Error: There was an error sending your offer, please try again. If this problem persists, please contact us.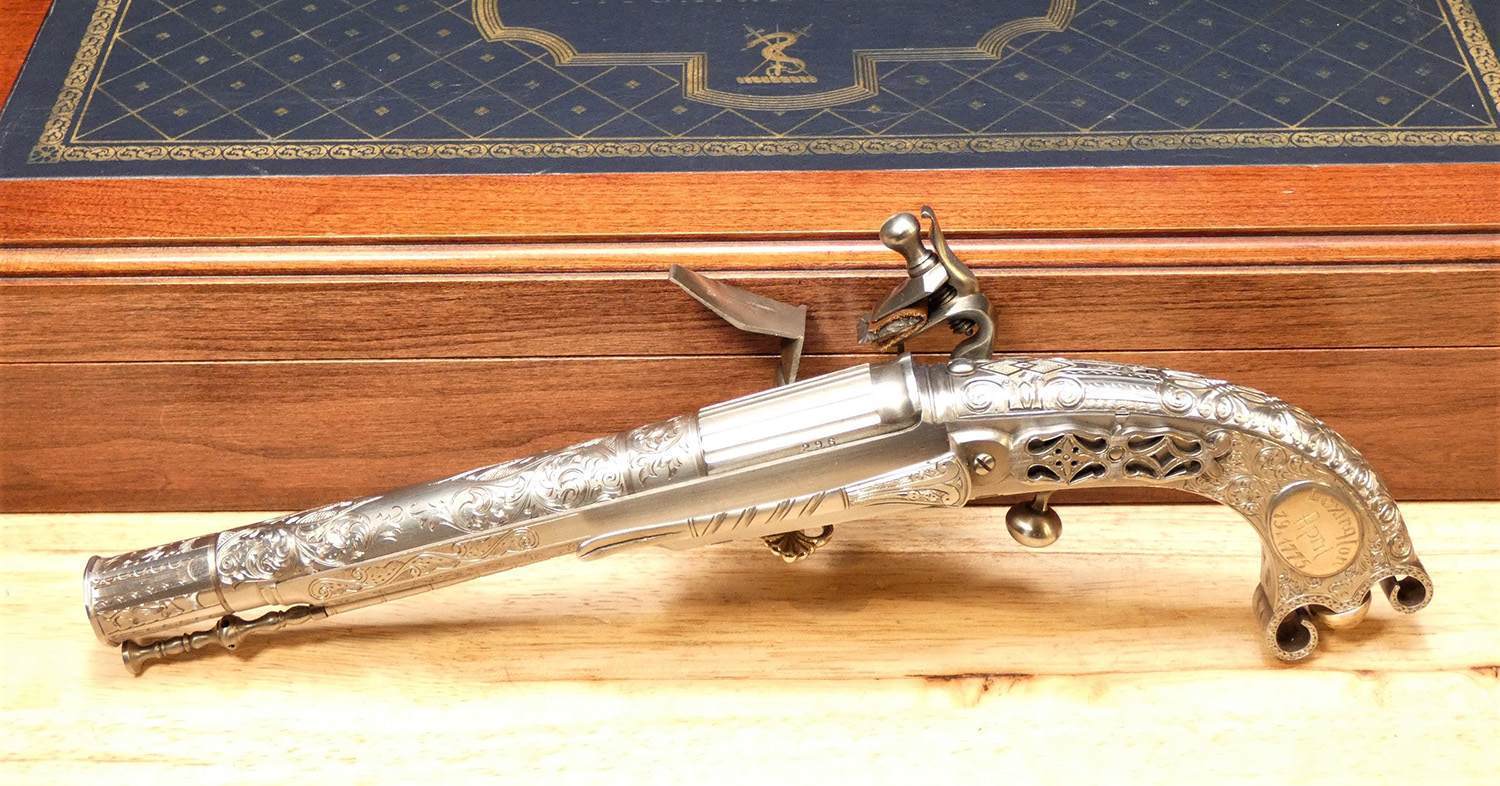 U.S. Historical Society Commemorative Pitcairn Flintlock Pistol
$1,499.00
This Murdoch Scottish replica pistol was created by the US Historical Society and the Eli Whitney Museum and is a replica of the pistol that historians believe fired the first shot of the American Revolutionary War as carried by British Major John Pitcairn at the battles of Lexington and Concord. This classic Scottish pistol is unusual because of its all-steel and silver construction using no wood. There are Celtic silver inlays and meticulous hand engraving, using intricate scroll and arabesques, on the barrel, frizzen, side plate, grip, and cock. The trigger is a steel ball design and the lock is a miquelet with horizontal (rocking) sear activating cock. There is a belt hook, steel ramrod, and a double curled butt with sterling silver capped pick, threaded between the curls on the butt. The lock is marked ÒMurdochÓ and the grips have inlaid silver monograms, the right shows a coat of arms with a snake wrapped around three swords and the left reads "Lexington April 19, 1775".
Only 900 of these exact reproductions were ever manufactured.  This one is serial #269 (of 900), .58 cal, 7 1/2″ smoothbore barrel. It is in excellent condition and comes in a beautiful walnut and Plexiglas case, lined with blue baize and has a plaque stating "The Pitcairn Pistol/ Authorized by/Whitney Armory Museum/ And/ U.S. Historical Society". An impressive looking pistol that would make a great display piece.
Serial Number: 296
Add to Cart