Featured Gun: AMT Hardballer Longslide 1911 for Sale!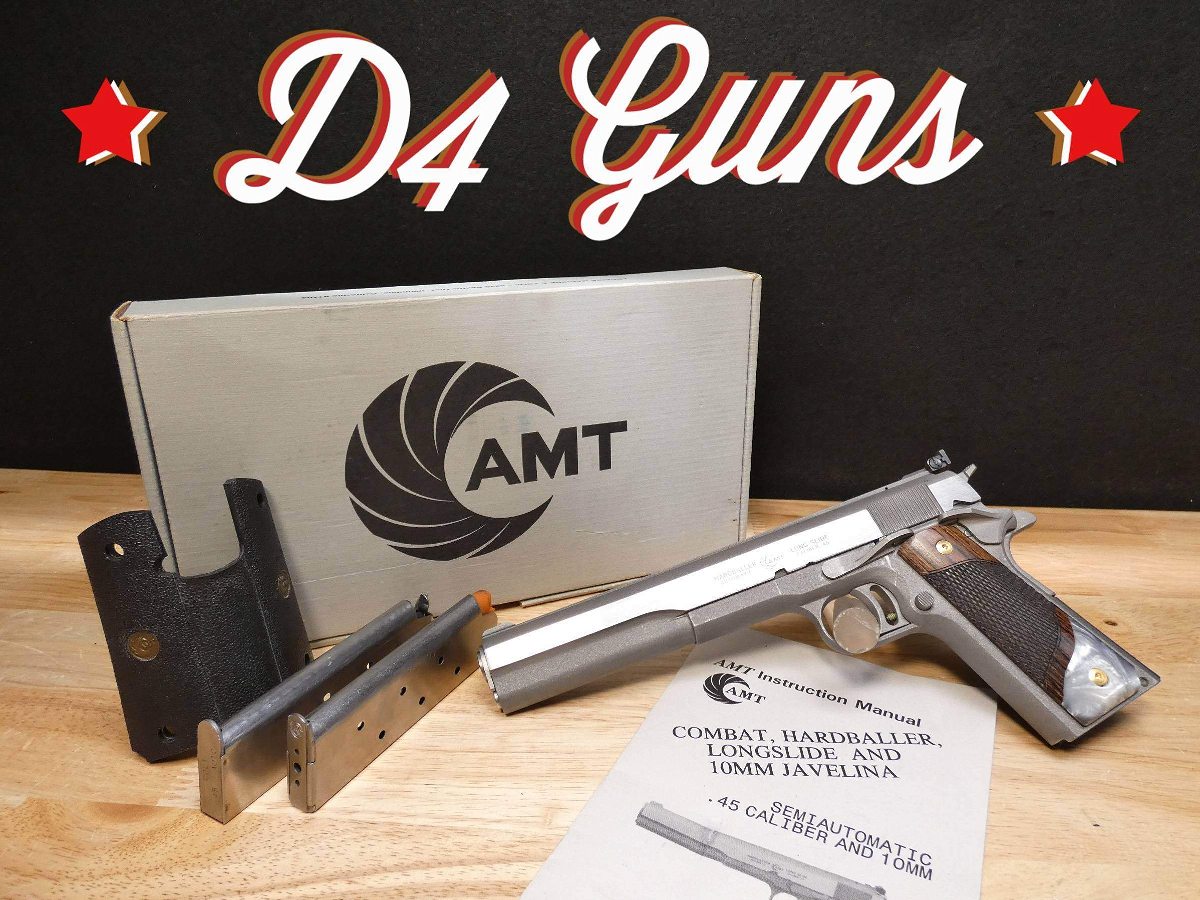 Arcadia Machine & Tool was the first company to produce a 1911 pattern pistol made entirely of stainless steel. It introduced its standard 1911 type pistol called the Hardballer which was produced with a long slide. The name Hardballer derives from the round-nose hardball .45 ACP ammunition the gun fired. The AMT 1911 style pistols came in different variants but arguably the most popular variant of the Harballer series was the Longslide. This version came with an extended 7-inch barrel.
It was most famously popularized by Arnold Schwarzenegger with his breakout performance in James Cameron's original Terminator film. In that version of the AMT Hardballer Longslide, it came equipped with a laser sighting and quickly eliminated (or rather terminated) any target that encountered the fictional cyborg assassin.
Another reference to the Hardballer in Pop Culture came in the form of the highly successful Hitman video game series. It was the weapon of choice for main character Agent 47, who preferred to carry one in each hand to combat enemies and his targets.
With the effective closing of the AMT company, these guns have become more and more scarce to find, much less with the original box and manual. Thankfully for those who are interested in securing one before it becomes impossible to purchase, D4 Guns has one of these sought after Hardballer Longslides up for sale and is our featured gun of the week.
This AMT Hardballer Longslide is in excellent condition and comes with the original box, manual, original grip and (2) 8-round magazines. It is currently configured with a set of custom grip panels. This pistol is marked Irwindale, CA, and has an A SN Prefix. This gun comes with a full-length guide rod, adjustable target-style sights, an extended slide stop and safety, a beavertail grip-safety, and an adjustable trigger.
For those who have been looking for a unique 1911 type pistol to add to their collection, this vintage AMT Hardballer Longslide .45 ACP pistol would be an excellent choice. We anticipate this will sell fast so act now before this opportunity slips away.