Featured Gun: Browning B-S/S Side Lock Shotgun for Sale!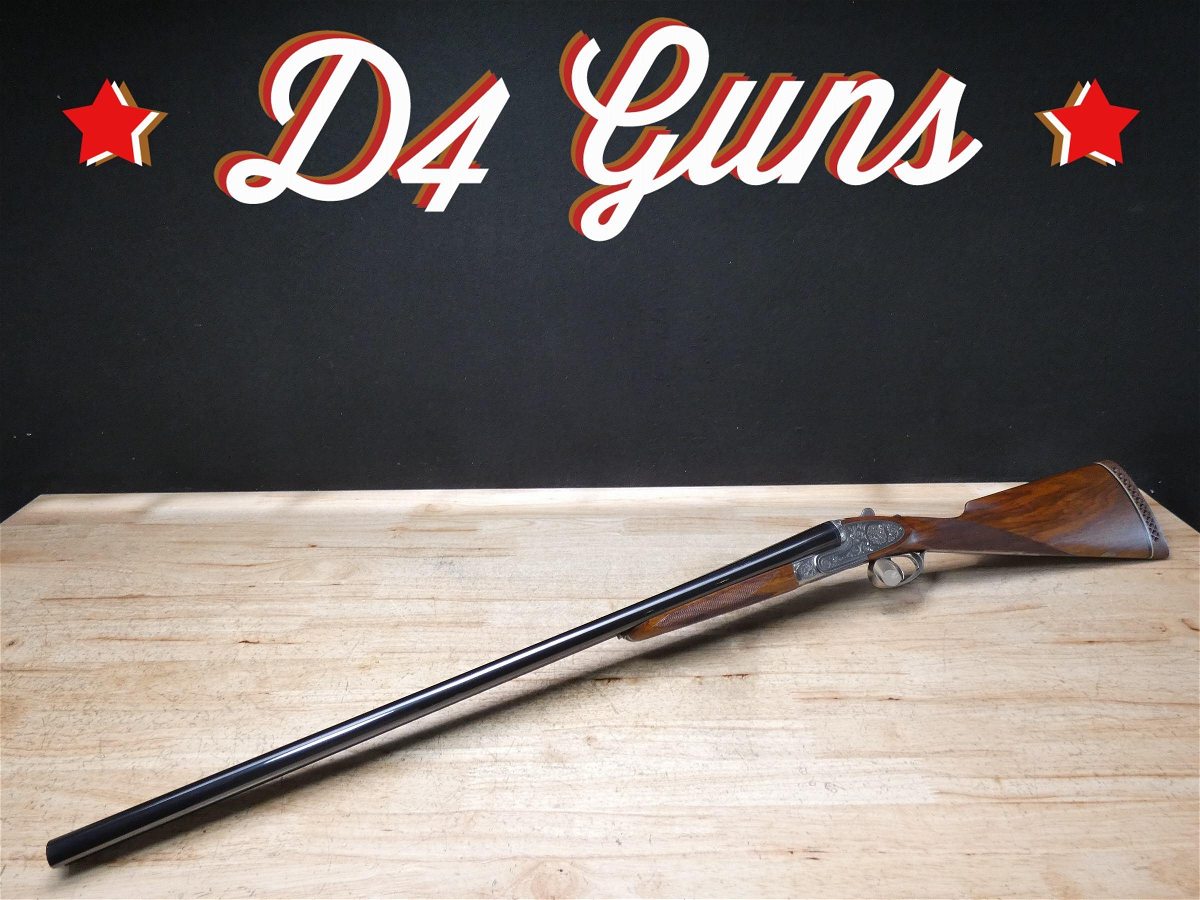 Browning produced the BSS side by side shotgun from 1971 to 1987 beginning with 12 gauge and followed by 20 gauge shortly after. The shotgun was produced and assembled through modern production methods. However, the engravings on the receiver and the fitting of the action was done by hand. Early models came standard with ejectors and an automatic safety that engaged when the shotgun was broken open after being fired. A single, selective trigger evolved around 1977 and the trigger color shifted to a gold hue rather than the earlier versions with a silver colored trigger.
The BSS, initially built as a boxlock, was well designed and balanced. Unfortunately, it was introduced at a time of transition from lead to steel shot for waterfowling and at a time when double barrel shotguns were not in demand. Sales for it were weak and production halted in the late 80s and the shotgun was not featured in Browning's yearly catalog.
It didn't take long for the price of the Browning BSS to start escalating. In today's pre-owned gun market, the Browning BSS sells for top dollar and is highly sought after. To find a sidelock version of the Browning BSS is rare and to find one in good condition is even more challenging. However, D4 Guns has one in pristine condition up for sale and is this week's featured gun.
Our understanding is only around 1000 were produced from 1983 to 1987 in 12 and 20 gauge. This B-S/S is in great condition and features a 28-inch barrel and the rarely seen side lock with English-style straight stock. The left barrel is fully choked and the right barrel has a modified choke. It is chambered for 2 3/4″ shells and equipped with ejectors and has double triggers. . LOP = 14 1/8 from the front trigger to the end of the butt pad. Drop at comb is approximately 3/8, front: 1 1/8 inch, back: 1 1/2 inch. Cast: neutral. Built on a stylish Holland & Holland-inspired sidelock action, the nicely figured walnut stock is fitted beautifully and has a straight, splinter forend. The coined finished action is beaded and well-shaped. It is also adorned with real hand-cut rose and scroll engraving. The Browning BSS is one of the most reliably built American side-by-side shotguns ever to be produced.
Arguably these sidelocks were the highest quality Miroku guns ever made and can be added to any collectors inventory now through D4 Guns. Potential buyers need to act fast before this opportunity slips away.