Featured Gun: RARE and UNIQUE GyroJet Rocket Pistol For Sale!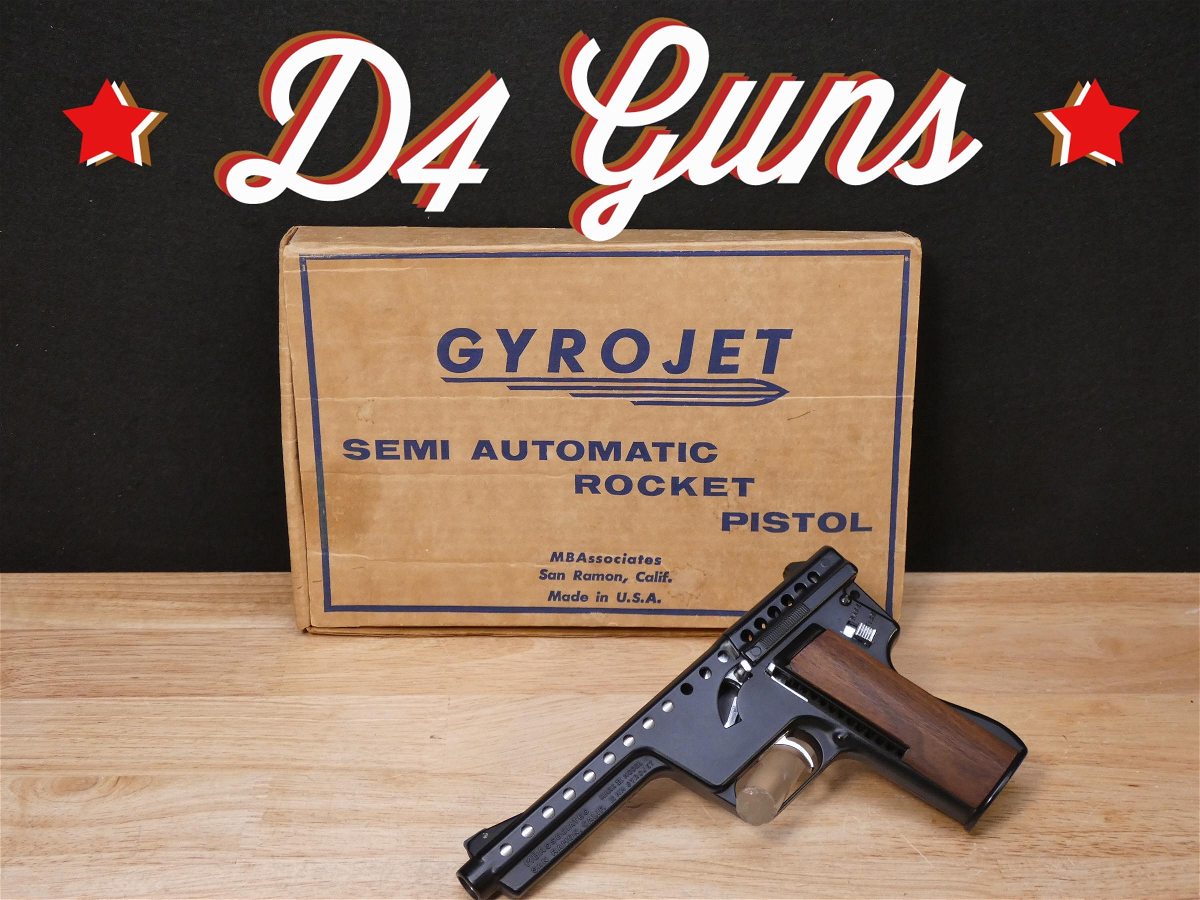 The MBA GyroJet pistols are unique and one of the most unconventional firearms ever produced. The guns were developed in the 1960s by Robert Mainhardt and Art Biehl through their joint company MB Associates.
The GyroJet pistol fires small rockets or "microjets" that utilize rocket propulsion to fire its rounds rather than the traditional gunpowder combustion. GyroJet rockets consist of a hollow metallic case that is filled with a propellant and a percussion primer in the center of a base that contains angled ports. Once fired, the angled ports cause the rockets to rotate and accelerate. GyroJet rockets are propelled by thrust from the burning propellant contained within the rocket and passing out the through angled ports in the projectile.
Because the cartridge is not building pressure in the barrel, there is no recoil in a Gyrojet, and the noise is a "whoosh" sound as opposed to the loud boom from conventional firearms. Exhaust gasses are vented through the holes in the barrel. The rocket burns for approximately 1/10th of a second to achieve a velocity of approximately 1,500 feet per second at about 60 feet from the muzzle, spinning at approximately 19,000 revolutions per minute.
Despite its innovative design, GyroJet pistols were not widely adopted by law enforcement or military organizations due to various factors, including its high cost, relatively low stopping power, and the fact that it required specialized ammunition. GyroJet pistols have long since faded into obscurity as a quirky piece of firearms history and finding these forgotten pistols can be challenging because they were produced in low quantities.
D4 Guns has one of these GyroJet Rocket pistols in mint condition with its original packaging for sale and is our featured gun.
Available to purchase is an MBA GyroJet Mark II Model C Rocket Pistol, a variant of the original GyroJet pistol, featuring a longer barrel, a more streamlined design, and improved accuracy. It also had a higher capacity magazine, allowing for up to 13 rounds to be fired before reloading.
This pistol is in excellent condition as well as the bore and comes with the original box!
Ronald Reagan, General Curtis Lemay, J. Edgar Hoover and Barry Goldwater all owned one. Special-ops teams carried them in Vietnam, and they have even been featured in James Bond movies. In other words, the GyroJet pistol is one of the strangest and most unique firearms ever manufactured. Finding one of these in this condition is near impossible and this will be a great addition to any collector's inventory.