Featured Gun: U.S. Small Arms Co. Huntsman Knife Pistol for Sale!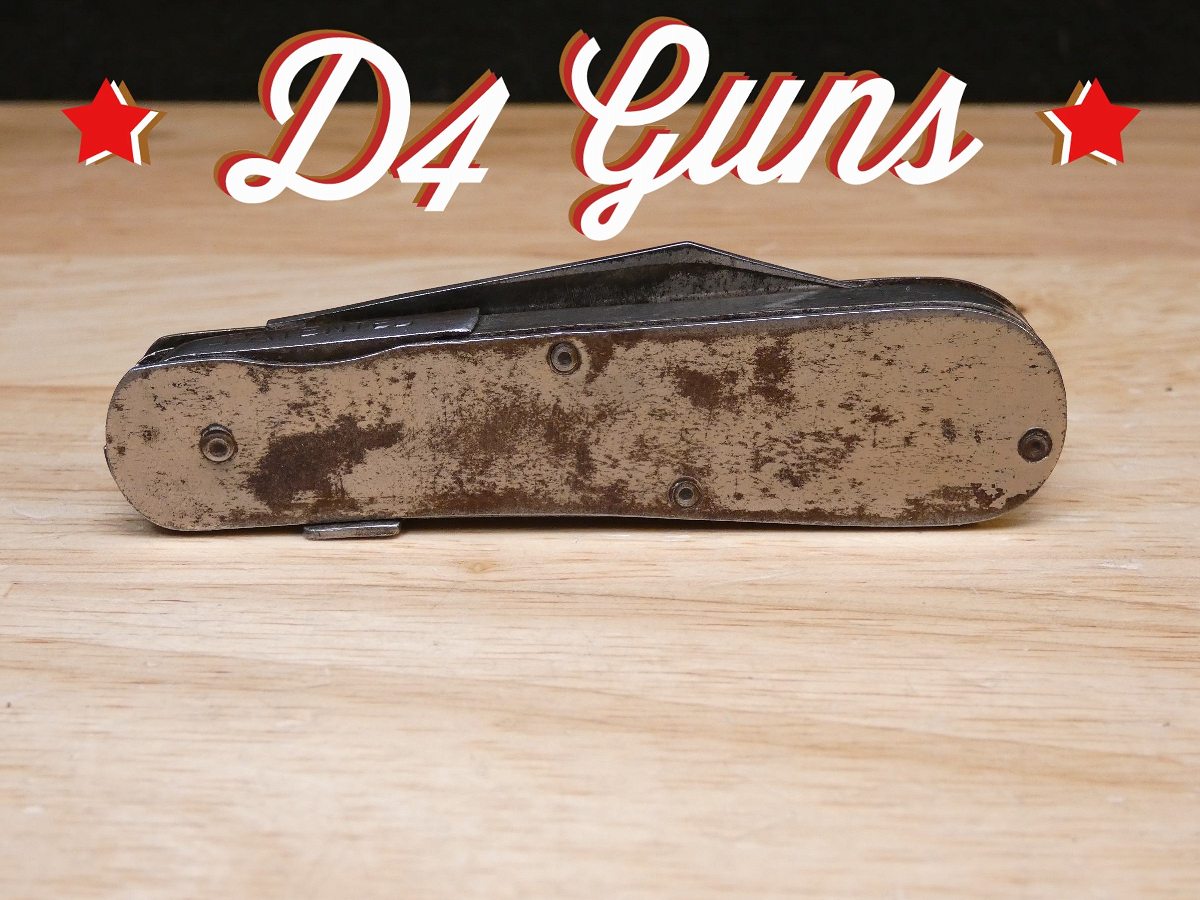 When one thinks about a pocket knife, the common thoughts about it are its lightweight, useful during recreational activities, a helpful tool for many jobs and can even be implemented during self defense as a slashing weapon. However, not often do we associate a knife with the capability to shoot a bullet like a gun unless referring to the combination knife pistol that was produced by U.S. Small Arms Co. in 1917. It was dubbed the The Huntsman; a firearm presenting the outward appearance of a pocket knife.
It was designed with a conventional folding knife blade and a chamber for a single .22 long rimfire cartridge. Once loaded, a folding trigger was used to fire the unique gun. The breechblock was narrowly longer than overall cartridge length, which meant there was no barrel or rifling. Obviously, the Huntsman could only be effective at an extreme close range only.
Retailing for $5 ($120 in today's money), it was one of the cheapest guns one could potentially own at the time. It remained in production until 1930 and then began a long, slow fade into an obscure corner of firearms history.
What makes this gun even more interesting from a historical and military perspective is its association with a Nazi plot to sabotage the United States war effort during World War II. According to the Smithsonian Magazine, A New York Times headline on July 4, 1942, read "Nazi Saboteurs Face Stern Army Justice." The article described a plot thwarted by the FBI with eight agents of Nazi Germany in custody, caught on American soil with detailed plans to sabotage key infrastructure and spread panic.
In late June, two squads of German saboteurs had landed on American beaches, ferried by U-boats to Long Island and Florida's coast. The saboteurs had enough explosives for two years of mayhem, with immediate plans to blow up a critical railway bridge, disrupt New York's water supply and spread terror. They were stopped just before they could implement their nefarious plot. One of these Nazi agents happened to be carrying a Huntsman knife pistol when taken into custody.
Coming across these obscure knife pistols is near impossible as many have been lost to time and what remains are often already part of private collections. However, D4 Guns have been able to secure one of these guns, is currently up for sale and is this week's featured gun!
This U.S. Small Arms Co Huntsman Pistol in .22. functions and leaves a mark on a snapcap. Considering how old this particular Huntsman is and the finish wear on the metal surfaces, it is in good condition and working order. Finding these in working condition does not happen often and we expect this to sell fast. Do not let this rare opportunity slip by and add this fantastic piece to your collection.