Selection Required: Select product options above before making new offer.
Error: There was an error sending your offer, please try again. If this problem persists, please contact us.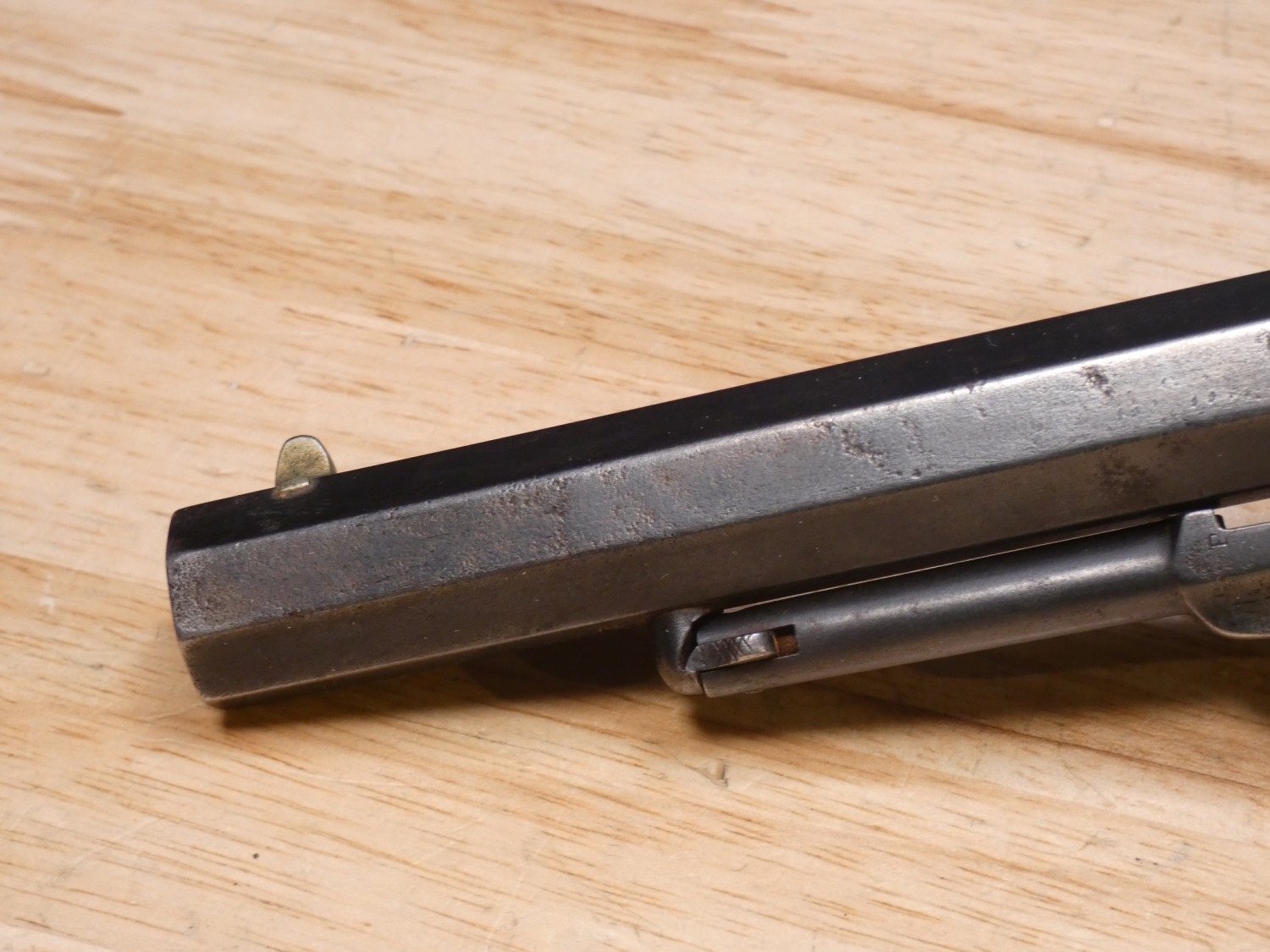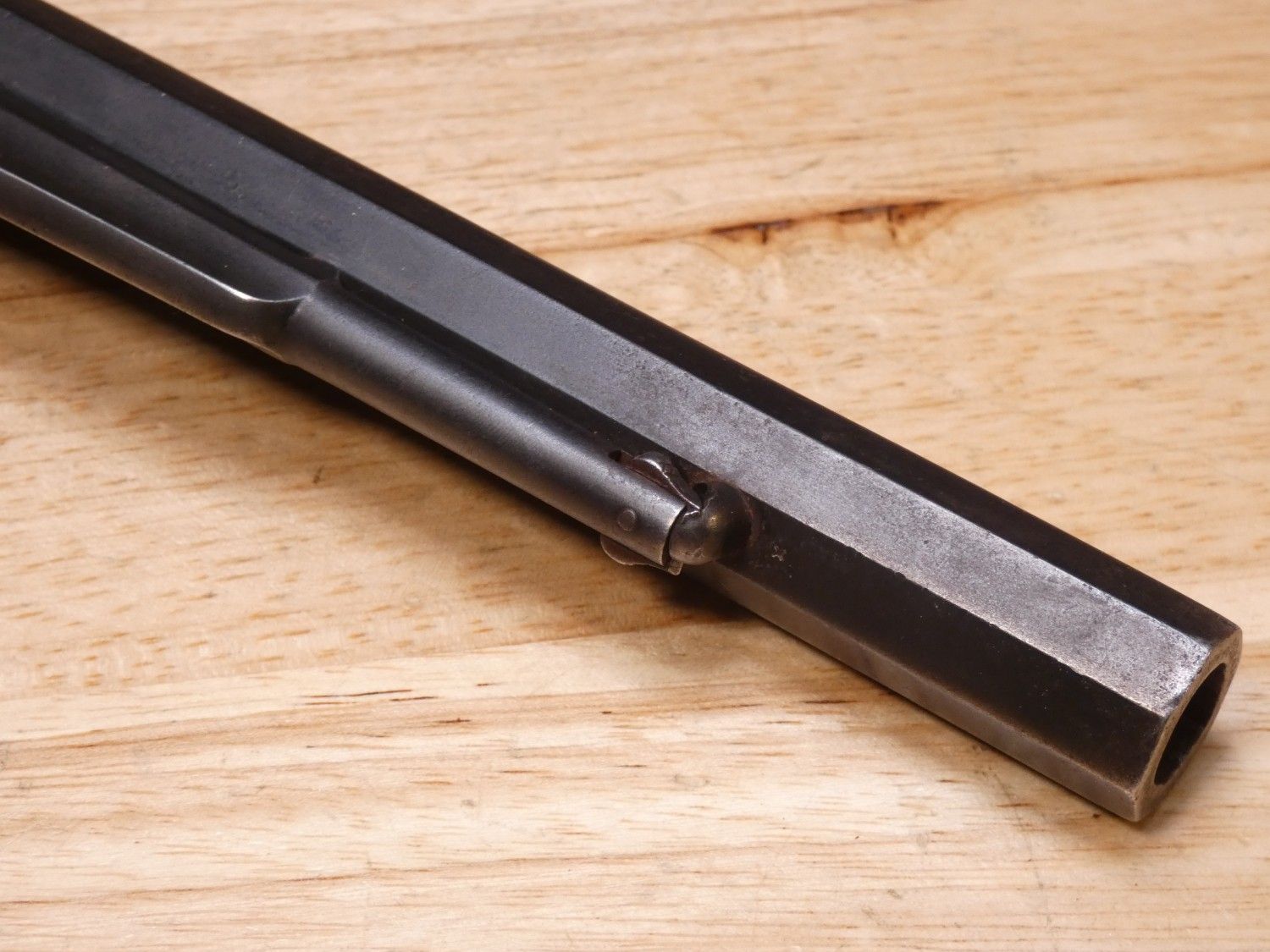 ORIGINAL REMINGTON 1861 OLD MODEL ARMY REVOLVER
$2,299.99
This is a nice Remington 1861 "Old Model" Army Revolver in .44 caliber percussion. It is a 6 shot single-action revolver, with an 8-inch octagon barrel, which replaced the earlier "Remington-Beals Army Model Revolver". The top of the octagonal barrel still has the original barrel markings.
PATENTED DEC. 17, 1861
MANUFACTURED BY REMINGTONS, ILION, N. Y.

Other versions of this revolver were often called the "Model 1858" due to the patent date on the barrel, however, this version had a different patent date listed. Only Approximately 6,000 were produced before transitioning to the "New Model 1863", which was the result of numerous incremental improvements suggested by the Army ordnance department. This is a genuine civil war issued gun, with a great look, and a solid place in history.  This model was only made during the year 1862, before being superseded by the next model in the line, the "New Model" 1863.
History of Remington 1861 Army "Old Model" Revolver:
Remington, like Colt, was in business of arms making long prior to the Civil War. They had been producing handguns since 1857 when they introduced the Remington Beals Pocket Revolver. With the outbreak of the Civil War all of the company's energy became devoted to the military production of longarms and hand guns. The martial hand guns produced during the Civil War period included the Remington-Beals Army and Navy Model revolvers, the Remington Models 1861 Army and Navy Revolvers, (a.k.a. as the "Old Model Army" and "Old Model Navy") and the Remington New Model 1863 Army and Navy revolvers.
The Remington is a single-action, six-shot, percussion revolver produced by E. Remington & Sons, Ilion, N.Y., based on the Fordyce Beals patent of September 14, 1858 (Patent 21,478). The Remington Army revolver is large-framed revolver in .44 caliber with an 8-inch barrel length. The Remington Navy revolver is slightly smaller framed than the Army and in .36 caliber with a 7.375 inch [Beals Navy 7.5 inch] barrel length. There were three progressive models made: the Remington-Beals Army & Navy (1860–1862), the 1861 Army & Navy (1862–1863), and the New Model Army & Navy (1863–1875). The three models are nearly identical in size and appearance. Subtle but noticeable differences in hammers, loading levers, and cylinders help identify each model. The 1861 Remington actually transitioned into New Model appearance by late 1862, slowly transforming throughout 1862, due to continual improvement suggestions from the U. S. Ordnance Department
Specifications:
Year of Manufacture: 1862
Caliber: .44cal
Ammunition Type: Cap and Ball
Barrel Length: 8 inches
Overall Length: 14 inches
Action: Single
Feed System: 6 Shot Revolver
The bore is in Fair condition consistent with the gun. Own a piece of History!
Serial Number: 6185
Add to Cart