Featured Gun: Colt Single Action Army Colonel Sam Colt Sesquicentennial Revolver For Sale!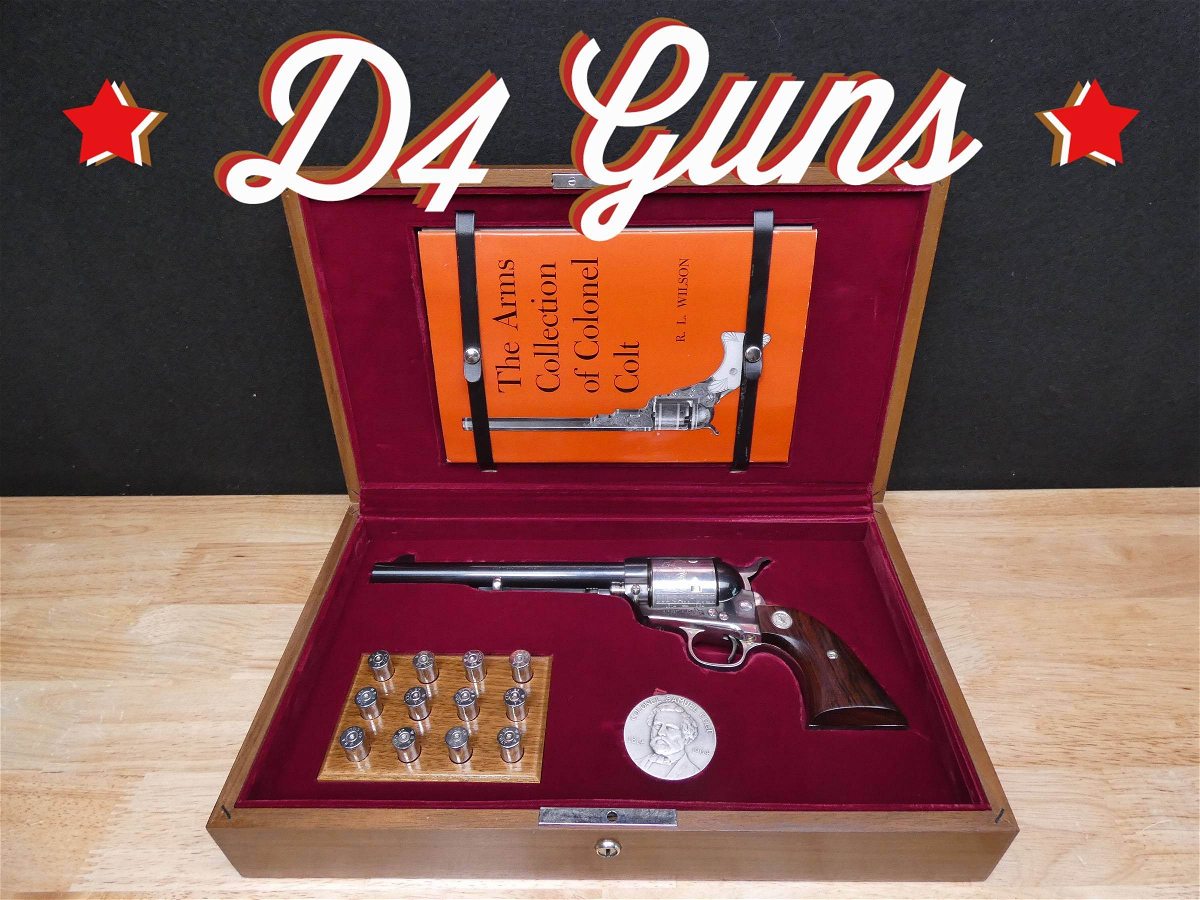 The Colt Single Action Army revolver is one of the most recognizable and replicated handguns in history. No Colt revolver has earned greater fame than the Single Action Army. Playing a pivotal role as one of the guns that helped win the West, Colt's Single Action Army was used by soldiers and civilians alike and is still in production more than 140 years after it entered U.S. Army service. The revolver had limited service in the Spanish American War, Philippine Insurrection and even the U.S.-Mexico border conflict in the early 1900s. By World War I and World War II, the Single Action Army was out of circulation, although U.S. General George S. Patton carried a Single Action Army revolver as his personal sidearm throughout World War II.
Firing the .45 Colt cartridge, it ushered in a new era of modern firearms features by introducing a feature that allowed the shooter to easily load and unload cartridges. Standard technology at the time for revolvers was a cumbersome process. Before the Single Action Army, revolvers like the 1851 Navy required the shooter to fill the chamber with gun powder, insert wads to help seal the chamber to prevent chain fires and press the built-in rod to shove the load deep into the chamber. It was only then the shooter could add a round projectile into the chamber and then once again shove the projectile deep into the chamber with the built- in rod. This process had to be repeated another five times before a shooter could be fully loaded.

To commemorate the sesquicentennial of the birth of Samuel Colt and celebrate the Colt SAA, Colt produced the Single Action Army Colonel Sam Colt Sesquicentennial single action revolver in .45 LC. It is this week's featured gun and up for sale now. This revolver is in excellent condition and comes with the original wood display case, "The Arms Collection of Colonel Colt" book by R.L. Wilson, a commemorative letter by Former Colt President Paul A. Benke, a commemorative Samuel Colt medallion, and 12 dummy cartridges.
The revolver has a nickel finished cylinder, grip straps and ejector assembly. Special unfluted cylinder with engraved vines and chiseled bored inscribed 1814-1964. Cased in a red velvet-lined case with cartridge block for 12 rounds of special nickel-plated display cartridges and copy of the special edition of "THE ARMS COLLECTION OF COLONEL COLT" by noted author R.L. Wilson. The case is further embellished with a commemorative coin with the bust of Colonel Samuel Colt dated 1814-1864. The case is of walnut with a nickeled plaque on cover reading "ONE OF 5000 COLONEL SAML COLT SESQUICENTENNIAL MODEL 1814-1864."
Be sure to make your offer on this beauty before its gone!