Featured Gun: Smith & Wesson .38 Chiefs Special Revolver Model No. 36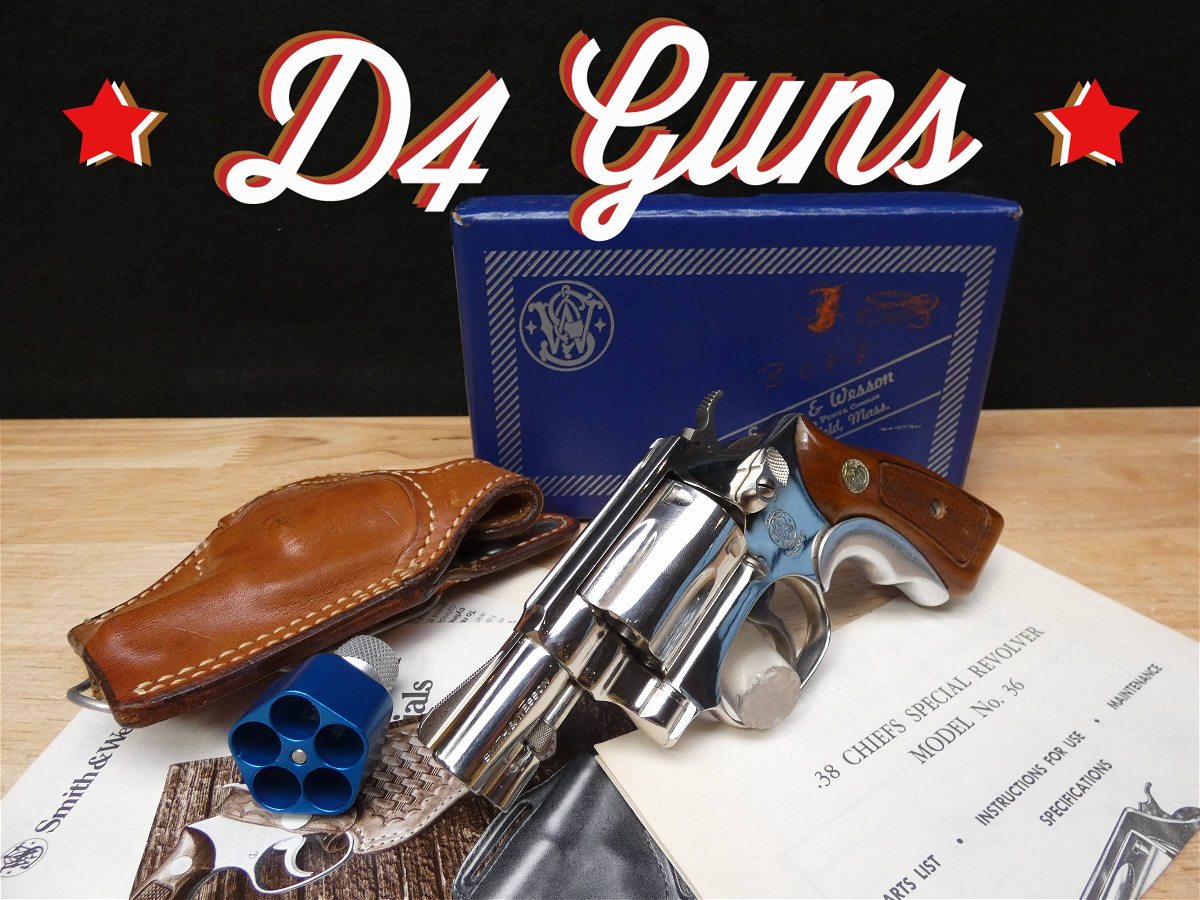 The Smith & Wesson model 36, also known as the "Chief's Special," is one of the most distinctive revolvers to emerge from the 20th century. These easily concealable revolvers have distinct characteristics and are synonymous with both law enforcement and the hoods they pursued. These revolvers were designed with a snub-nose barrel, which makes it easy to conceal, and is chambered for .38 Special ammunition.
The Chief's Special, designed primarily for plainclothesmen and off-duty police officers, made its public debut at The International Association of Chiefs of Police conference in 1950. At the conference, the Smith & Wesson sales force asked the police chiefs to vote on a name for the new revolver. The most commonly suggested name was .38 Chief's Special. Designed with the needs of law enforcement officials in mind, the Chief's Special proved to be a popular revolver for personal protection due to its size and weight. When Smith & Wesson adopted model numbers in 1957, the Chiefs Special became the model 36.
The model 36 was designed as a lightweight, compact revolver for police officers and civilians who wanted a reliable, easy to carry firearm for personal protection. It quickly became popular with law enforcement agencies and civilians alike, and remains one of the most popular revolvers of all time.
The model 36's significance lies in its role as a pioneering revolver in the concealed carry market. Its small size, lightweight design, and ease of use made it an ideal choice for people who wanted a firearm for personal protection but didn't want to carry a bulky or heavy weapon. It has been featured in almost every form of media from movies, TV shows, video games and much more, cementing its place in pop culture as a go to gun for many.
The Smith & Wesson model 36 Chief's Special is still popular among gun enthusiasts, law enforcement personnel, and civilians who want a reliable and an easily concealable firearm for personal protection. The model 36 has a reputation for being a reliable firearm that can withstand heavy use and abuse. It has been tested and trusted by law enforcement agencies for decades, and many civilian gun owners have had positive experiences with the revolver as well. The model 36 has a classic revolver design and a timeless look that has remained popular for more than half a century.
D4 Guns has a mint model 36 with all of its original packaging that is available to purchase now!
This 5-shot model 36 is in excellent condition and features a nickel-plated finish with a grip adapter. The original box, factory paperwork, a leather holster, and a speed loader are also included. Lockup is tight and timing is on. The model 36 was designed in the era just after World War II, when Smith & Wesson stopped producing war materials and resumed normal production.