Featured Gun: Smith & Wesson Model 57 for Sale!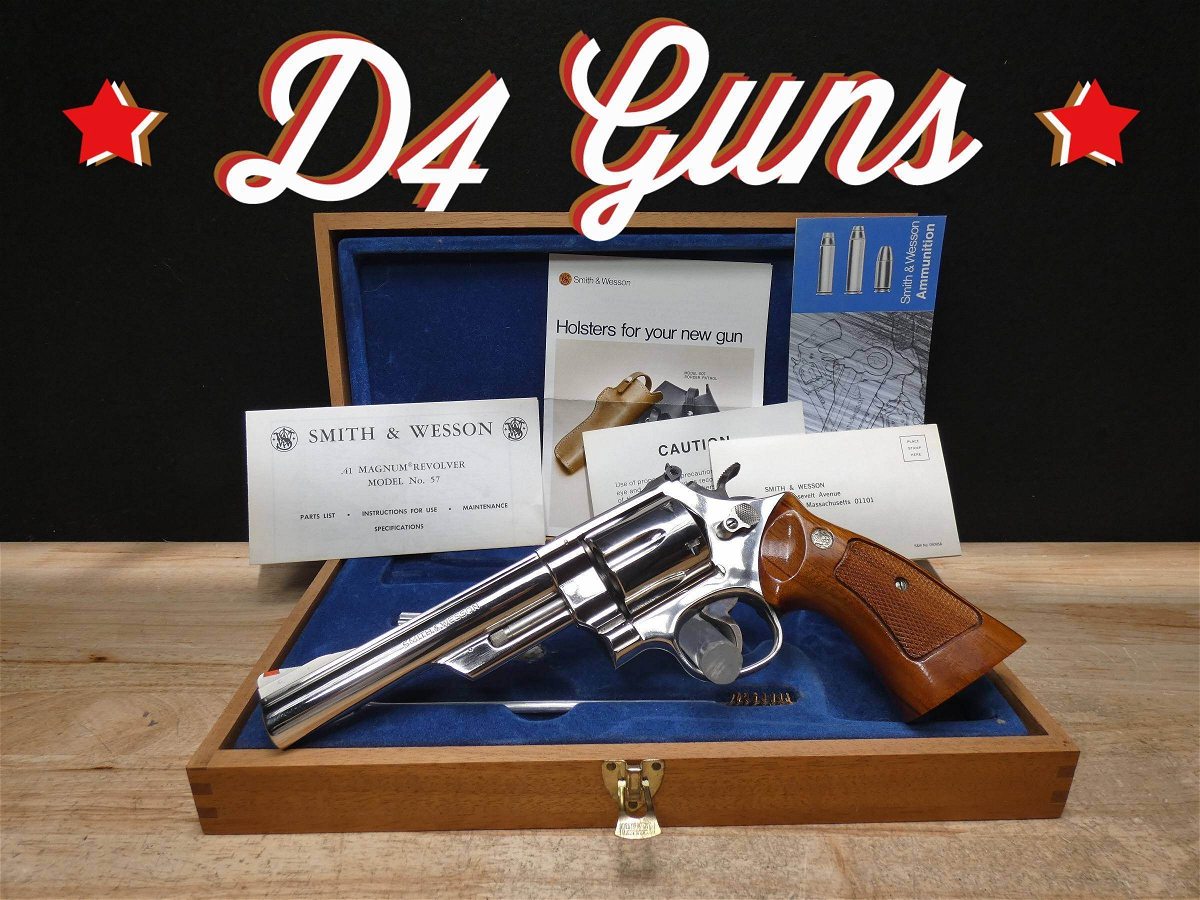 In the early 1960s, noted firearms authorities and authors Elmer Keith, Bill Jordan and Skeeter Skelton lobbied  Smith & Wesson to fill a perceived gap between the .357 and .44 magnum revolvers. The idea was to give law enforcement a revolver that would help take down bad guys more effectively with the higher caliber bullet but with less recoil than the .44 magnum. Enter the Smith & Wesson Model 57.
The new caliber and revolver had a lackluster response from the market and law enforcement for a few reasons. A majority of police departments were content with their traditional .38 Special revolvers, and if more stopping power was needed, cartridges such as the popular .357 Magnum were available. Additionally, when senior police officials could be convinced to evaluate the .41 Magnum, many complained that even the lighter .41 Magnum "Police load" was unpleasant to fire, while the .357 Magnum offered adequate performance without the bruising recoil and muzzle blast associated with the .41 Magnum.
As for the general public, .44 Magnum outpaced demand for the .41 Magnum partly due to Clint Eastwood's performance in the Dirty Harry police movies where he highlighted the S&W Model 29 as "the most powerful handgun in the world." As a result, .41 Magnum revolvers including the S&W 57 fell out of favor with the general public and the United States firearms market. Besides the Dirty Harry mystique, the .44 Magnum's great advantage was first to the market by nearly a decade and it offered an easy-shooting, easily obtainable .44 Special alternative in much the same way as .357 Magnum users can enjoy a more laid-back .38 Special option.
However,  the .41 Magnum, much like the 10mm Auto, has managed to gather a dedicated cult following through the years. Enough so that Smith & Wesson has kept the Model 57 in the stable as a member of its highly regarded Classics lineup. For those who are part of this dedicated fanbase and are looking for a pristine model 57 with a high polished finish, D4Guns has one in stock and is the featured gun of the week.
This revolver is in great condition and in includes original manuals, cleaning tools and original hard case. This revolver has a beautiful nickel finish. Own this iconic S&W Model 57 today before this revolver is gone for good.