Featured Gun: FN Browning Model 1922 With WWII Allied Capture Paperwork for Sale!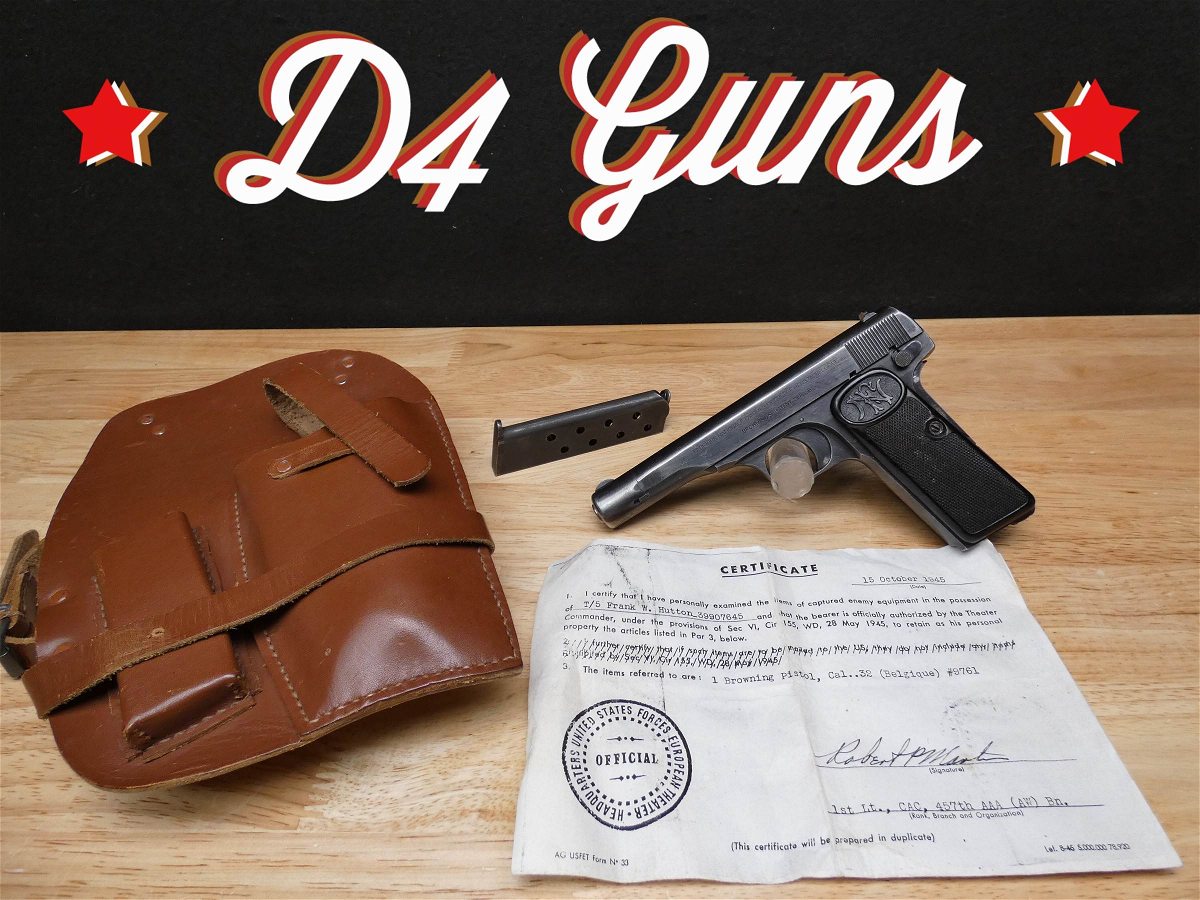 After the first World War, the FN Browning M1910 was updated with a longer barrel and grip and was introduced in 1922 during the interwar years. Enter the FN 1922,  a design created by the legendary John Moses Browning. When introduced, it was viewed as a sleek and modern-looking pistol for its time. A slotted extension at the front of the slide secured the assembly, and a small serrated catch allowed for field-stripping. The gun has a grip, magazine, and manual safeties. Initially adopted by the Yugoslavian military, the 1922 gained momentum on the world market and was eventually used by military and law enforcement in Belgium, Denmark, Finland France, Greece, Holland, Romania, and Turkey.
During World War II, the FN factory which produced these pistols was captured by Nazi forces and under their control continued to produce FN Model 1922 pistols to assist German soldiers on the battlefields. Eventually, more than 350,000 1922 pistols were produced between 1940 and 1945. During the war, American troops would capture these and other Nazi pistols as war trophies and allied soldiers would often send them back to the United States.
For collectors of WWII firearms, we have something in stock that would be a great addition to any collectors inventory. This week's featured gun is an FN Browning Model 1922 with German proof marks. What makes this particular Model 1922 even more interesting is it comes with captured enemy equipment certificate with the US Soldiers name and the official stamp of the "United States Forces European Theater Headquarters."
This FN Model 1922 chambered in .32 ACP/ 7.65 mm is in great condition especially considering its age. It comes with a leather holster and a 9-round magazine. Having an opportunity like this to take home a piece of history is becoming more difficult as time goes on. For those on the hunt for a WWII allied capture war trophy pistol,  here is a rare opportunity to make this part of your collection.