Featured Gun: Colt AR-15 SP1 Pre-Ban For Sale!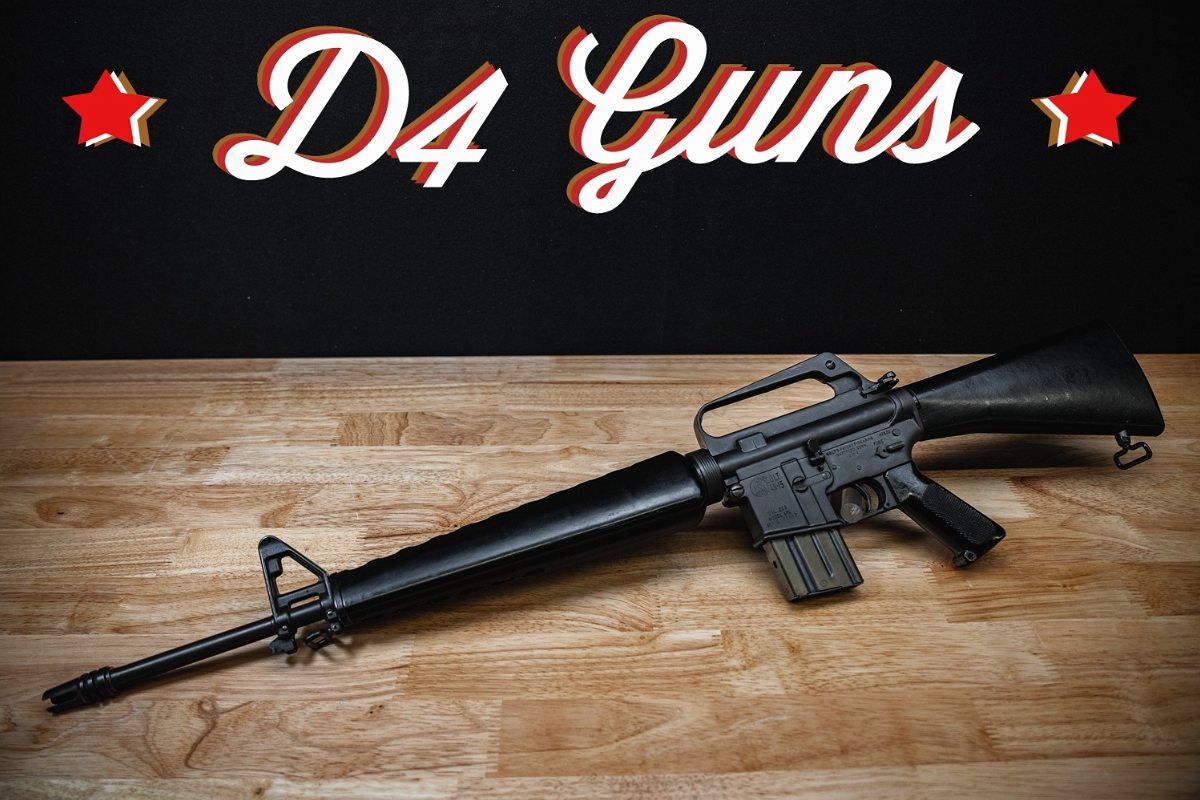 The American made AR-15 rifle is a pillar of the gun industry, it is one of the most popular rifles for consumers and lodged into American culture as a symbol of freedom and prestige. The AR-15 was developed in the late 1950s as a civilian weapon by Eugene Stoner. Revolutionary for its lightweight, easy care and ruggedness, the AR-15 entered the mainstream during the 60s. After Colt bought the patent, it developed the M16, a fully automatic version used by American troops fighting in Vietnam.
More than 20 million AR-15 rifles can be found in the United States today. Many view AR-15 type rifles as ergonomic, highly accurate and very reliable. With many manufactures of the AR-15 platform and high demand for it, popularity for this rifle remains strong among gun owners. However, for the discerning gun owner, it is likely that a pre-ban Colt is at the top of wishlists for many collectors. Luckily, here is a chance to fulfill that desire. D4 Guns has a desirable pre-ban Colt SP1 AR-15 rifle for sale and is our featured gun.
Available for purchase is a Colt AR-15 SP1 chambered in .223 Rem. This rifle is in great condition and comes with a rare Colt "Circle 1" 20-round magazine. The barrel is 20 inches and the bore is in great condition with no pitting. This is a very early model semi-automatic SP1 manufactured in 1966/1967. We know this is an early SP1 not only due to its 4-digit serial number (the zero does not count), but in 1966 and 1967, Colt was experimenting with the serial number. Most Serials start with SPxxxx, but this rifle is missing the SP. The SP1 was one of the first AR-15s available for civilians to purchase and this one is one of the first 10,000 civilian ARs made by Colt. It features the early A1 3 -prong flash hider, rubber butt pad with no trapdoor, and other early AR pieces not found on later SP1 rifles.
The Colt SP1 is an old-school AR-15 and the grand-dad of today's ultra-popular AR-15 platform. Looking as if they were plucked directly from the hands of an American soldier fighting in Vietnam, today they are highly collectible.
Be sure to act on this rare opportunity to add this to your collection as we expect to sell this fast!