Featured Gun: First Edition Colt Anaconda!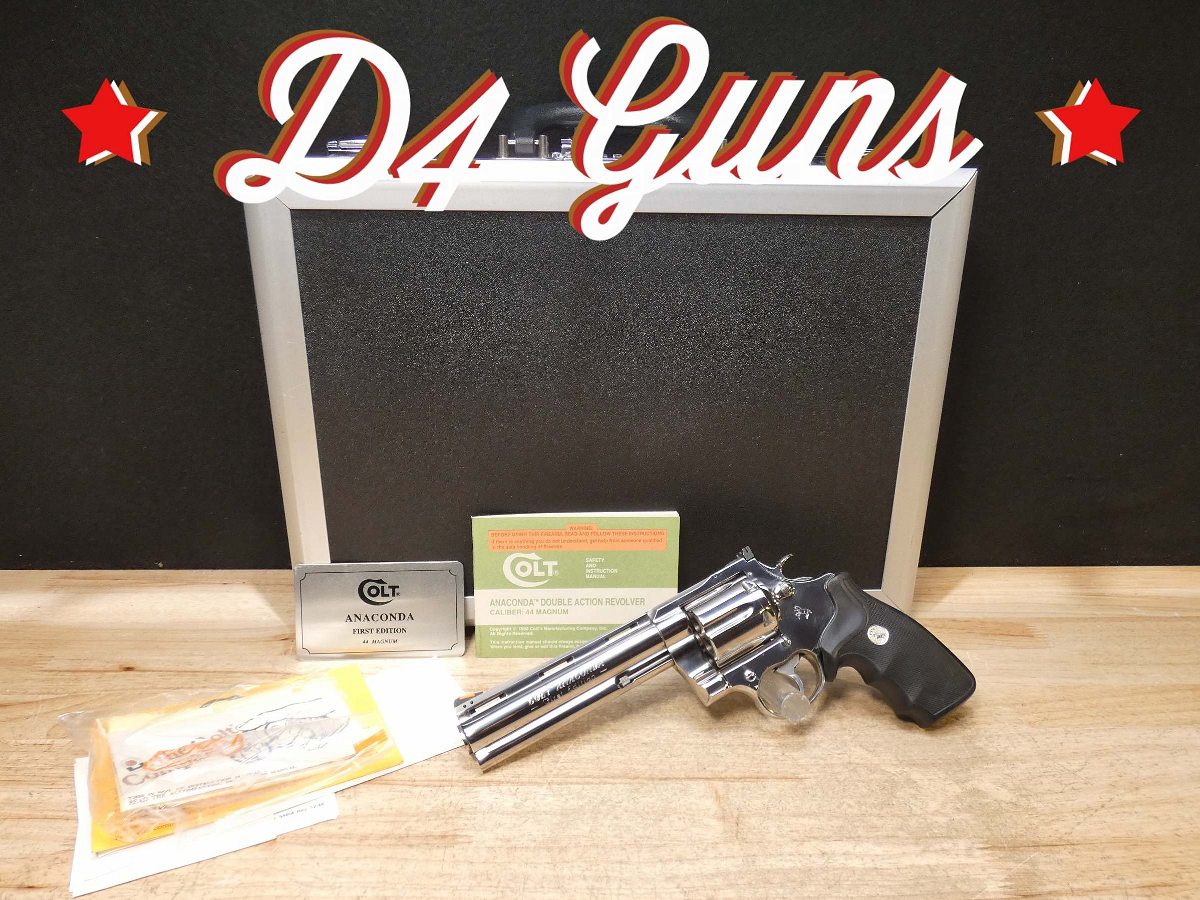 Colt's popular snake gun revolver series was thrusted into popularity among gun owners with its Python chambered in .357 Magnum. However, Colt's relatively late entry into the large-bore handgun market raised the stakes with its Anaconda. Chambered in .44 Magnum, the Anaconda was introduced by Colt to compete with other .44 Magnum revolvers such as the Smith & Wesson Model 29 and the Ruger Redhawk and Blackhawk. Each Colt Anaconda is built with a double-action/single-action operating system and includes many of the characteristic traits first seen in the Python. These include the ventilated sighting rib, full underlug, ramped front sight and characteristic Colt cylinder latch.
Colt ceased mass production of the Anaconda in 1999 and purchasing one was typically only available through Colt's custom shop. Colt did revive the Anaconda in 2021 just as it did the Python in 2020. Finding an original Colt Anaconda produced in the 90s will come with a high cost, but those are more coveted by collectors. For those in search of a rare first generation variant of the Anaconda, D4 Guns is excited to announce that we have one of these extremly rare and highly sought after revolvers in  stock.

For sale in D4 Guns inventory is a Colt Anaconda, serial number MM00277. This revolver is in overall EXCELLENT condition. It includes all the paperwork, the original First Edition aluminum locking carrying case, and blank registration card. This Colt Anaconda is number 227 of 1,000 EVER MANUFACTURED!
Manufactured in 1990, the only year of production for the first edition, this Colt sports the 6″ full lug vent ribbed barrel chambered for the .44 Mag cartridge! Wearing the gorgeous Factory Original Ultimate high polish Stainless finish, other signature features include the serrated trigger, serrated hammer, adjustable square notch white outlined rear sight, blade front sight with an orange insert, left side of the barrel is marked "Colt ANACONDA / First Edition", and is held by the black neoprene grips with Colt Medallions.
We expect this gun to sell quick, so act now before this opportunity slips away!